History of the Crab Feed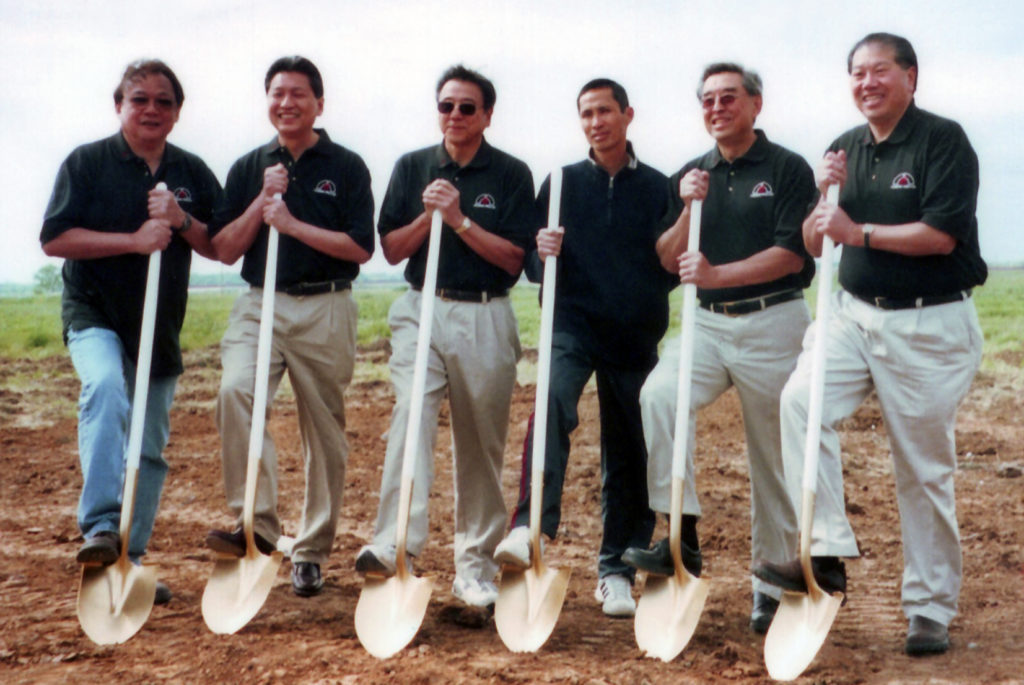 In 1993, the seven founding SASF board members were looking for ways to raise funds to build a gym for the Asian community. Having hosted their first basketball tournament just months before, they were looking for an original idea. Eddie Fong and Don Lee spearheaded the idea of a hot cooked, Chinese-style crab feed. The board made plans, pushed ticket sales and enlisted their wives, families and friends to help. The goal was to sell 500 tickets at $22.50 each. On the big day, the cooking crew labored over giant woks in the downstairs kitchen at Confucius Hall as guests took their seats upstairs. Volunteers lined the staircase and pans of food were passed hand-to-hand, up two flights of stairs and into the dining hall.
Not knowing how the hot crab would be received, the board decided to serve both hot and cold crab. Guests were treated with carafes of wine and complimentary bingo cards. Stuart Satow, the inaugural emcee, asked the crowd, "How do you like the crab?" The response was overwhelming.
In 1998, the Sacramento Warlords decided to host a crab feed of its own, in addition to volunteering for the SASF fundraiser. The money raised from the annual crab feed would benefit the program's youth basketball teams. The first Sacramento Warlords crab feed was limited to 300 tickets, but the demand for admission grew each year. Our modern day event hosts over 800 guests served by more than 200 volunteers. Due to the COVID-19 pandemic, our sit-down event has temporarily changed to a take-home format.
30 years and 50 crab feeds later, these fundraisers continue to be successful events. While many faces have changed over the years, there are many supporters who have been there from the beginning. The Sacramento Warlords would like to thank all of its patrons and volunteers, past and present, for their time and generosity.
Save the Date
Our next crab feed event will be on Saturday, January 13, 2024.
Tickets will be available for online purchase starting November 1, 2023.

Come enjoy our hot, Chinese-style crab, bar, raffle, and silent auction. Donation is $80 per ticket (+5.5% online processing fee). During purchase, enter a reservation name for your party and select from 1 of 4 seating sections. Upon check-in at the door, refer to our seating chart for your party's exact seat assignment. Maximum 10 tickets per transaction. No refunds once orders are placed.
Groups wishing to be seated together should purchase tickets under one reservation name. If you need to purchase more than 10 tickets, you will have to process more than one transaction. If you select tickets from the same section and enter the same reservation name for each transaction, your tickets will be seated together.
Purchasing window open November 1 thru January 1 or until sold out.

Restrictions:
No outside food or drinks.
All food must be eaten on the premises.
Every patron must purchase a ticket and be seated.
No standing in aisles.
No strollers allowed in aisles.
No lap-sitting babies/children.